Vulture Mine is located just 12 miles outside of Wickenburg, Arizona. To reach Vulture Mine, drive 12 miles south along Vulture Mine Road (from Bank of America). Vulture Mine's entrance can be found on the right side of the road, approximately half mile after mile marker 15.
For visitors coming in from Highway 10, exit to Hassayampa Road drive northbound for approximately two miles. From there, turn left onto W Indian School Road. Drive for three and a half miles before turning right onto N 335th Ave. Drive 13 miles along N 335th Ave and Aguila Rd before turning right onto Vulture Mine Road. The entrance to Vulture Mine is located 10 miles away, to the left side of the road.
History of Vulture Mine
Mining activity in Vulture Mine began in 1863 after Henry Wickenburg had discovered a nearby quartz deposit containing gold. Soon after his discovery, Wickenburg established Vulture Mine. Wickenburg reportedly named the site after spotting several large scavenger birds circling on top of the mine. A community of miners soon emerged, forming the town of Vulture City. At its peak, the fully functioning town was home to 5,000 people and boasted facilities such as an assay office, dormitories, saloons, a school, post office, and a 80-stamp mill.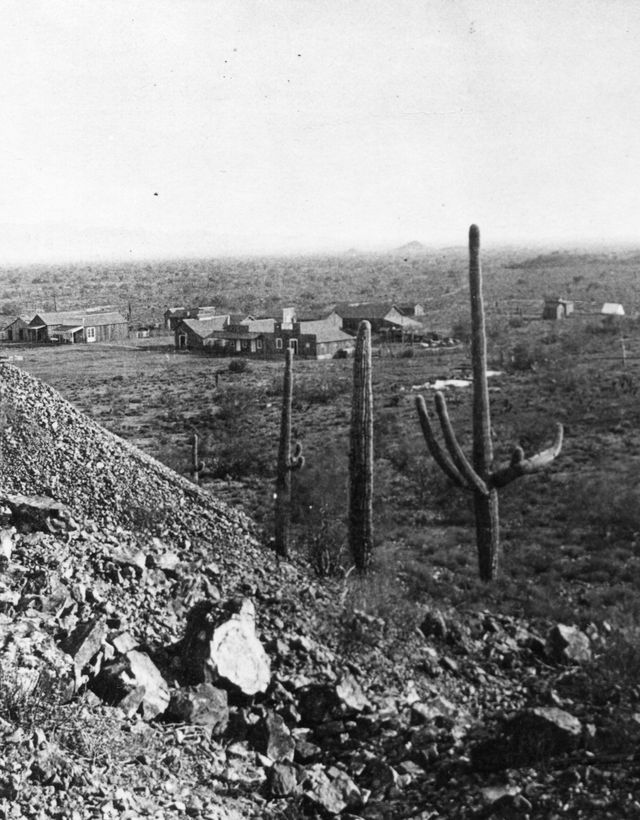 From 1863 to 1942, Vulture Mine was the most productive gold mine in Arizona history, producing an estimated 340,000 ounces of gold and 260,000 ounces of silver over the 79 years. However, its history was plagued with robberies and frequent change of ownership. In 1878, Central Arizona Mining Company purchased the mines in hopes of getting a positive return on its investment. However, poor management and financial woes forced the company to close down operations of Vulture Mine in 1884.
Three years later, in 1887, American prospector Horace A. Tabor took over the gold mine. Also known as the The Bonanza King of Leadville, Tabor was a renown prospector who had invested in several silver mines across the West. Yet Tabor was also troubled with equipment failures, flooding and mismanagement at Vulture Mines. Tabor sold the mine in 1897 at a sheriff's sale.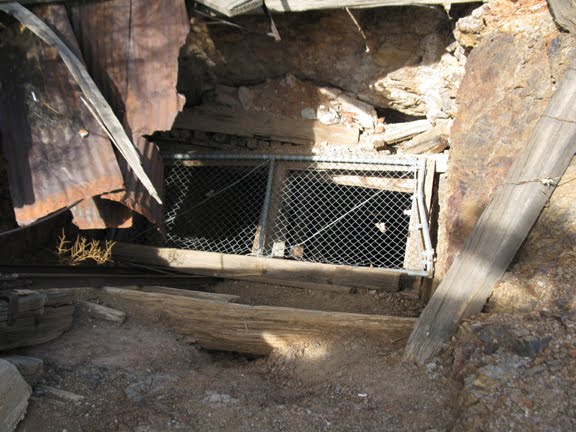 Following the outbreak of World War II, the War Production Board ordered all non-essential mines to close down to focus resources on the war, forcing mining activity at Vulture Mine to come to a grinding halt. Vulture Mine appealed the decision and was successful, leading to a restart of the mining activities just months after it was forced to shut down.
Unfortunately, its revival was shortlived. Just years after its reopening, Vulture Mine closed down permanently. After its closure, residents at Vulture City vacated the town, turning it to a ghost town. After its closure, the mine and its abandoned town were sold to a group of private investors.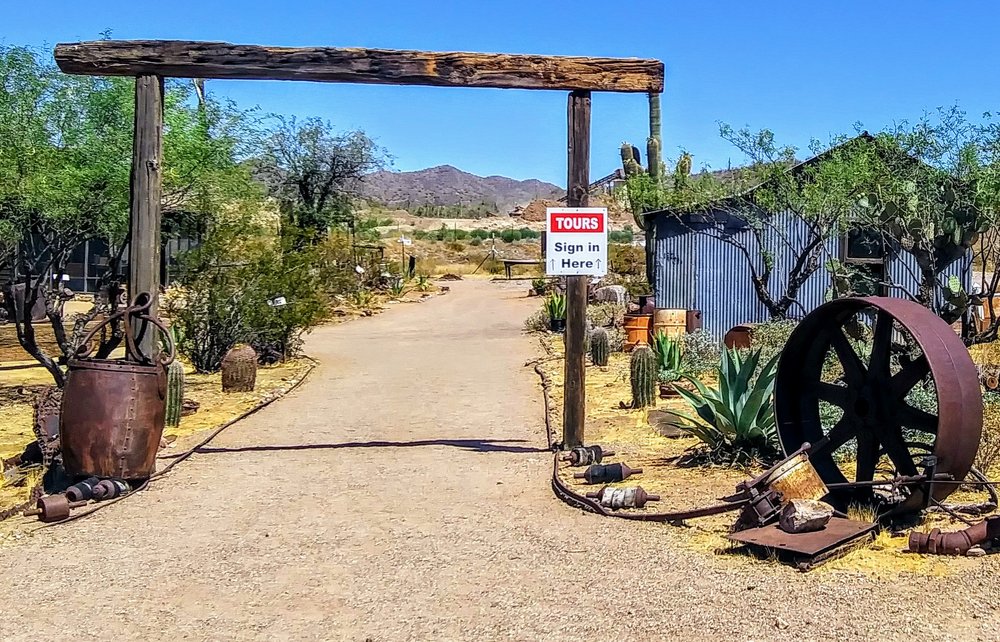 Today, Vulture Mine and Vulture City are currently owned by Rod Prat and Vulture Peak Gold, who have restarted the mine in light of the rally in the gold prices in recent years. That said, the site remains a popular attraction for tourists visiting Arizona. The site is currently opened seven days a week, with tours being conducted only on the weekends. A general admission fee of $15 is charged per person. Seniors and veterans are charged at a discounted rate of $12 per person while admission for children aged 7 to 11 cost $7 per person.
Hauntings at Vulture Mine
The abandoned ghost town is now said to be haunted by former miners who have never left. Tourists visiting Vulture City Ghost Town have reported numerous paranormal activities from orbs to ghostly voices and inexplicable footsteps.
The most famous resident ghost in Vulture City is none other than the spirit of James Davis, also known as Jimmy. Jimmy was a hardworking young man who had moved to Vulture City in hopes of striking it rich. On one day in May of 1916, Jimmy had notice a malfunction in the mine's pulley system and proceeded to replace a belt. In a tragic turn of event, Jimmy's arm was stuck in the loop as the belt was thrown over the central shaft, causing him to swing several times in the air. His body struck several of the heavy equipments around before falling down the shaft. While he had survived the accident, he had suffered numerous fractures. Jimmy's colleagues watched him scream helplessly as they tried to come up with a rescue plan. Unfortunately, Jimmy passed away five hours later at 3am in the morning. His body was eventually recovered and put to rest at Wickenburg Cemtery.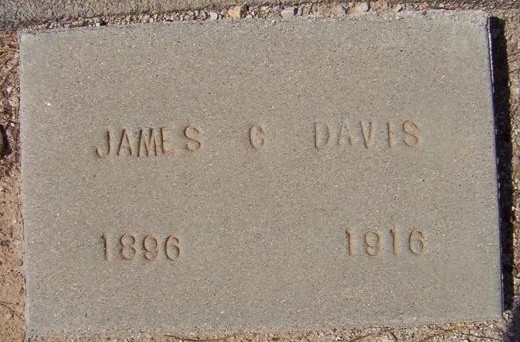 Today, many believe that the spirit of Jimmy lingers in the shaft, still waiting for someone to rescue him. On several occasions, staffs of Vulture City have reported hearing screams echoing from the shaft. Others claimed to have heard whipping sounds of the pulley belt, as if it was malfunctioning or being tugged by something below.
On the seventh episode of Season four of the Ghost Adventures, host Zak Bagans, Nick Groff and Aaron Goodwin ventured into the Vulture Mine in search of spirits that haunts the barren town. During the investigation, the team caught a ball of light zooming out of a door and disappearing into the roof. Several electronic voice phenomena (EVP) including "I Want Your Money" and "Take the Gold" were also caught on recording by the team.
The Hanging Tree
The Hanging Tree is a three hundred year old ironwood tree found right in front of Henry Wickenburg's cabin. The terrifying legend behind the Hanging Tree tells of a tragic story when 18 miners were caught stealing gold deposits from Vulture Mine. After their capture, they were supposedly hanged on Hanging Tree to warn other miners of the consequences of stealing. The Hanging Tree is now said to be haunted by these miners who were hung. Many tourists have reported hearing footsteps around the tree and rocks being thrown at them.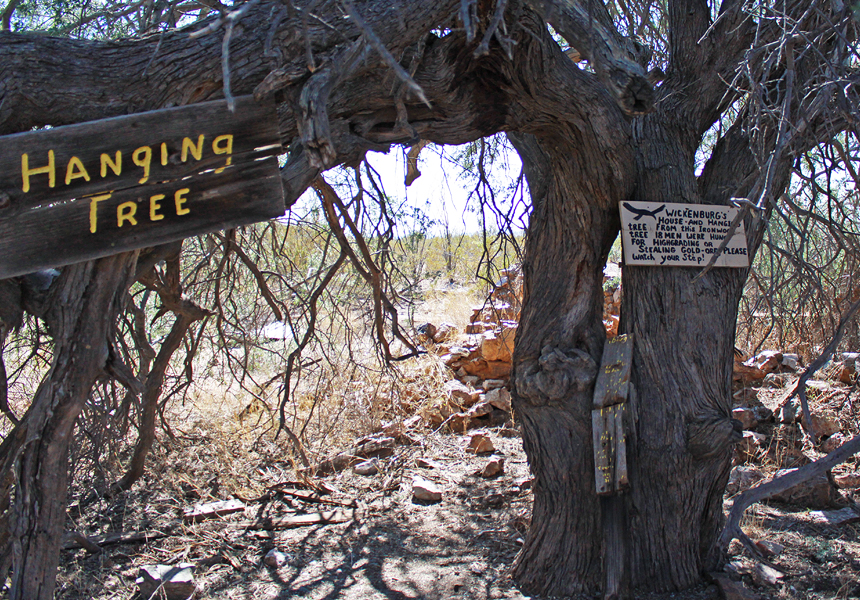 However, local historians Gary Carter and Joe Stephens have debunked the legends, stating that there were no substantial evidence or records to back the claims that the tree was used to execute miners.