The notorious Devil's tree is located within Oak Hammock Park, a 48-acre oak forest that was converted into a residential park in 2000. The tree, which is said to resemble a goat head with horns, is where Gerard Schaefer hung his two victims.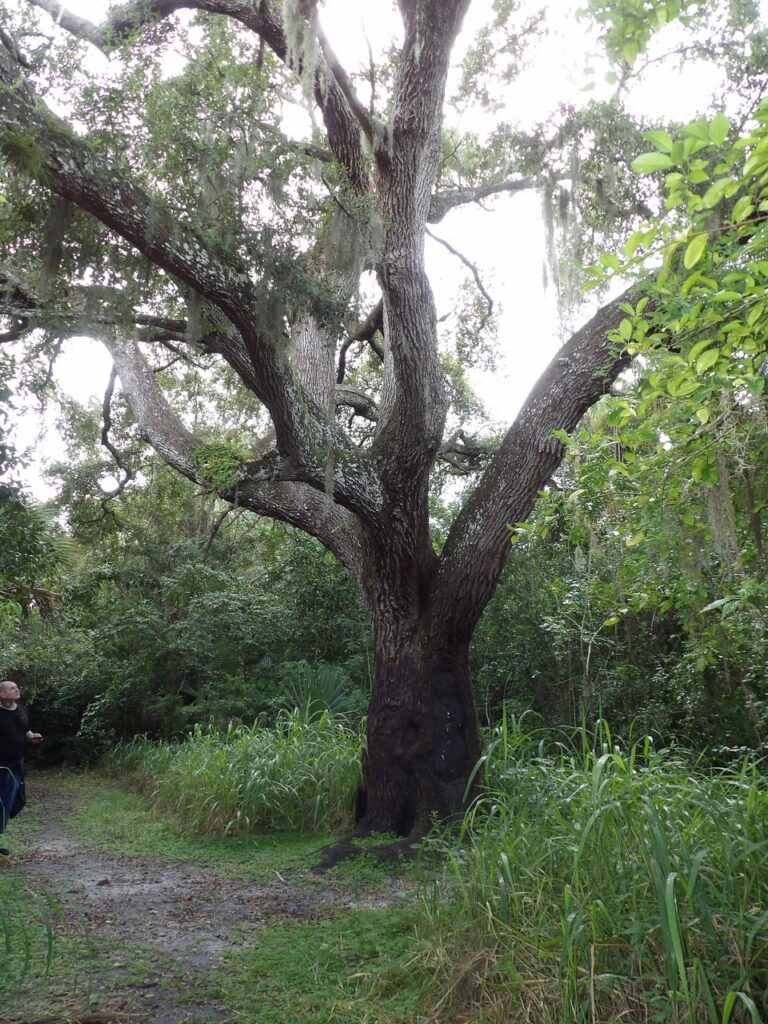 To get to Devil's Tree, walk along the canal on the right of Oak Hammock Park's parking lot. Walk past the little stream on the left and make sure that you do not turn left into the path. Continue along the path of the canal till you see an opening in the forest. Turn left into the trail and and the Devil's Tree is just a couple minutes away. The imposing tree is located on the left of the trail and is easily identified by the knot (also known as a burl) on its trunk and oversized branches. The trunk is also covered with burn marks and cuts left by visitors.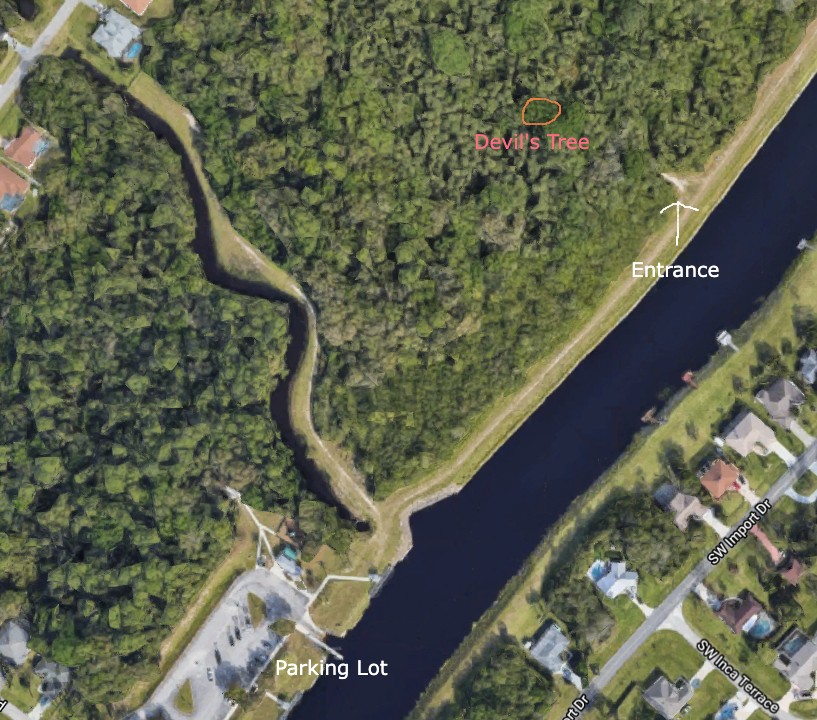 History of the Devil's Tree
The history of the infamous Devil Tree in Port St. Lucie, Florida, dates back to 1977 when the bodies of two teenage girls were found buried near a giant oak tree.
The murderer was arrested days after the discovery of the bodies. His name is Gerard John Schaefer.
A deputy sheriff turned serial murderer, Schaefer was a monster by society standards. From young, Schaefer became obsessed with bondage and sadomasochism and would fantasize about assaulting people, women in particular. He also had a perverted hobby of killing small animals. As Schaefer enters adulthood, his obsession with women only grew.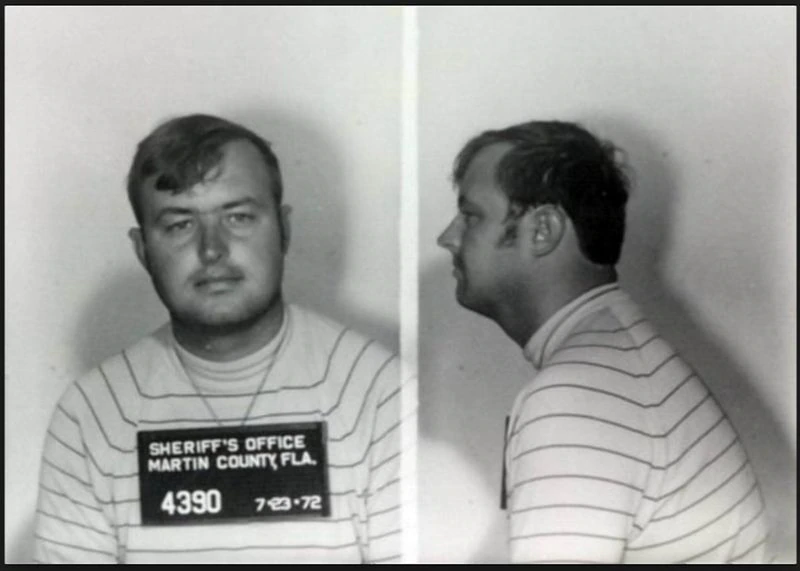 On October 1966, Schaefer committed his first murder: the molestation and killing of 20-year-old Nancy Leichner and 21-year-old Pamela Nater at Alexander Springs Park. Their bodies were only discovered hours later by a search party and their boyfriends who noticed their disappearance. However, no one was ever apprehended due to the lack of eyewitness and evidence.
"Doing doubles is far more difficult than doing singles, but on the other hand it also puts one in a position to have twice as much fun. There can be some lively discussions about which of the victims will get to be killed first. When you have a pair of lively teenaged bimbolinas bound hand and foot and ready for a session with the skinning knife, neither one of the little devils wants to be the one to go first. And they don't mind telling you quickly why their best friend should be the one to die."

Gerard John Schaefer
Six years later, on July 21, 1972, Schaefer abducted two girls 17-year-old Nancy Trotter and 18-year-old Paula Sue Wells in his patrol car and brought them to a desolate swamp to carry out his killing. However, an emergency over the police radio forced him to halt his murder plans; he bound the girls to a tree with a noose and gagged them before attending to the emergency. The two girls managed to escape and report to the authorities. Schaefer was promptly stripped of his badge and charged with false imprisonment and aggravated assault. He was sentenced to six months in prison and two years of probation.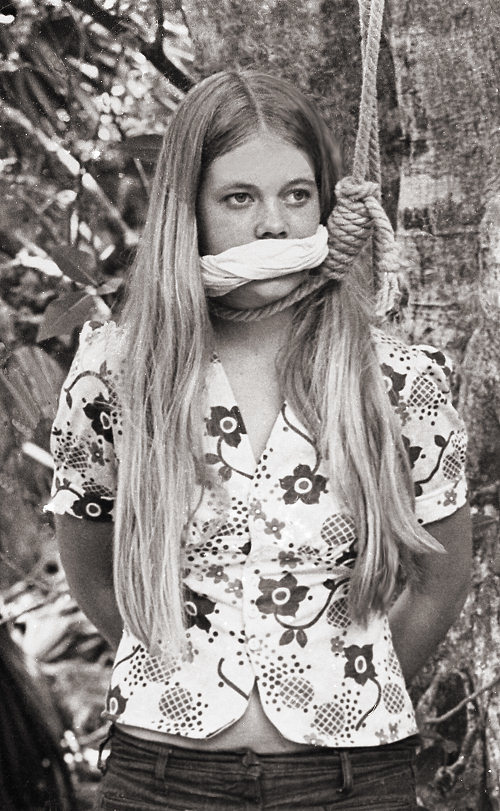 After being released on bail, Schaefer was determined to get his revenge. One night, he kidnapped, tormented and dismembered 17-year-old Susan Place and 16-year-old Georgia Jessup. Over the next few days, Schaefer would return to the tree to descrate the corpse. The bodies of Place and Jessup were eventually discovered by two men on September 27, 1972 when they were alerted to a nauseating smell. The decomposing remains of the two girls were buried by a tree now known as the Devil's Tree. An autopsy of the victims revealed that they were sexually assaulted, mutilated and hanged before being buried.
A raid conducted on Schaefer's house led to a shocking discovery: personal belongings of female victims including handbags, jewelries, passports and teeth. Also found are a collection of handwritten pages detailing Schaefer's macabre torture and murder of his victims.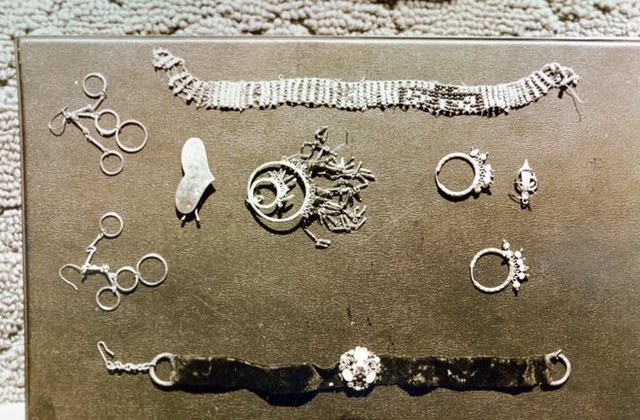 Some of the women believed to be victims of Schaefer include:
Carmen "Candy" Marie Hallock, a 22-year-old waiter. She disappeared on December 18, 1969.
Leigh Hainlines Bonadies, a childhood friend of Schaefer. She disappeared on September 8, 1969
Belinda Hutchins, ex-girlfriend of Schaefer. She disappeared on January 1, 1972.
Collette Marie Goodenough. She disappeared in January 1971.
Barbara Ann Wilcox. She disappeared in January 1971.
Mary Alice Briscolina. She disappeared on October 23, 1972.
Elsie Lina Farmer. She disappeared on October 23, 1972.
Debora Sue Lowe, a student at Rickards Middle School. She disappeared on February 29, 1972.
In spite of his connections to over 30 missing women and girls, there was inconclusive evidence to charge him for it. On October 1973, Schaefer was given two life sentences for the killing of Susan Place and Georgia Jessup. However, Schaefer would meet his eventual fate at Florida State Prison on December 3, 1995. He was stabbed more than 40 times by fellow inmate Vincent Rivera after a dispute over a hot-water dispenser.
Hauntings at the Devil's Tree
It is unknown how many were tortured and murders were committed under the Devil's Tree. However, many believed that the tree is now imbued with evil and haunted by victims of Schaefer.
Hikers have reported hearing ominous sounds including disembodied screams and the voice of a women crying for help. Some have also claimed to have seen dark figures along the trail to Devil's Tree. It is also rumored that Satanists have took up the terrifying oak tree as their new sacrificial site. Circles of stones as well as candles and remains of a bird can also be seen at open spaces near Devil's Tree. There have been reports of men with robes wandering the woods of Oak Hammock Park.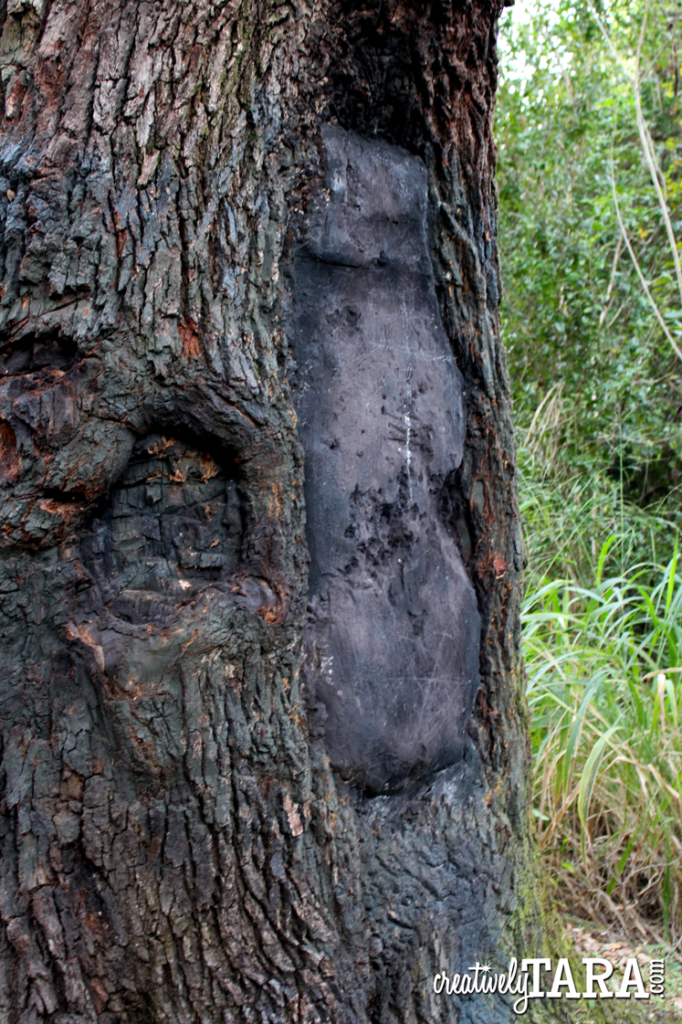 An exorcism was said to have been done by a local clergyman in 1993 to ward off any evil that remains in the Devil's Tree. It did not work. In 2000, the local authorities decided to convert the oak forest into a park. One of the very first thing was to cut down the Devil's Tree. However, the tree is seemingly 'indestructible' as attempts to cut it down were futile; chainsaws would malfunction and wooden axes would break.
The legend of Devil's Tree also says that misfortune would befall on anyone who is in possession of a piece of the bark. One story tells of a prank gone wrong when a woman took a piece of the bark and hid it in her friend's car; the duo was met with an car incident minutes after leaving the park but escaped unscathed.