The most famous resident ghost at Hotel del Coronado (also known as The Del and Hotel Del) is none other than Kate Morgan, a swindler who travelled around the country with her lover to carry out con acts.
The legend of the mysterious woman dates back to November 24, 1892, when she arrived at San Diego and checked in to room 3327 at Hotel Del Coronado under the name Lottie A. Barnard. Kate, then pregnant with a child, had agreed to meet with her lover at the hotel before heading out to the streets of San Diego to swindle unsuspecting men. However, days passed and her lover never showed up. Desperation soon turned into despair, and Kate did the unthinkable. She was found dead five days later (after checking into the hotel) at an outdoor stairway leading to Coronado Beach, with a self-inflicted gunshot wound to the head.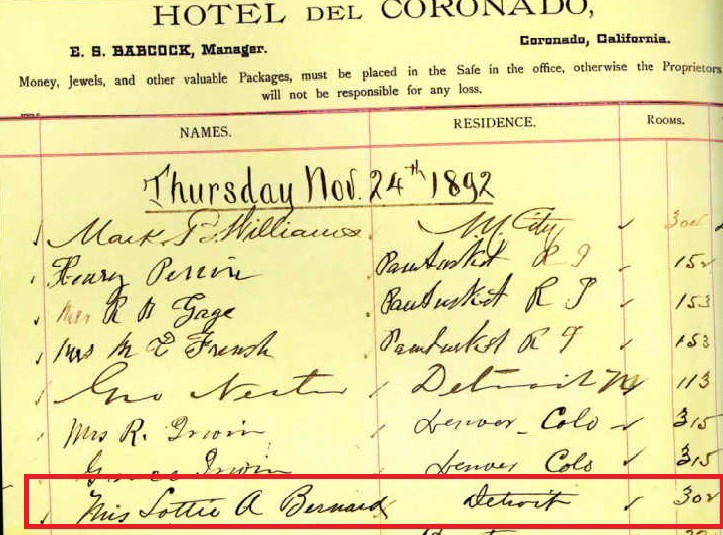 Days after Kate Morgan's passing, no family had come forward to identify her body. As such, she was buried at the nearby Mount Hope Cemetery in Div 5 Sec 1. Her funeral procession was attended by a few women from the local community and paid for by a donor who sympathised with her plight. However, no relative or friend of Kate Morgan followed the hearse to her grave. Her true identity remain a mystery.
A police investigation into the suicide revealed little about Kate Morgan's life. No family had ever come forward to identify the body, nor were there any police records to verify the identity of her. Guests have previously reported seeing a women believed to be Kate behaving eccentrically at the hotel's restaurant and the lobby. A women resembling Kate was also spotted purchasing a .44 caliber pistol at Chuck's Gun Shop. After months of investigation, the death of Kate Morgan was ruled as a suicide.
One theory suggested that Tom may have actually arrived at Hotel del Coronado, and that Kate's intention to kill her husband with the purchased gun has backfired. In a scuffle, Tom shot Morgan in the head before proceeding to destroy all identifications of Kate at the hotel room.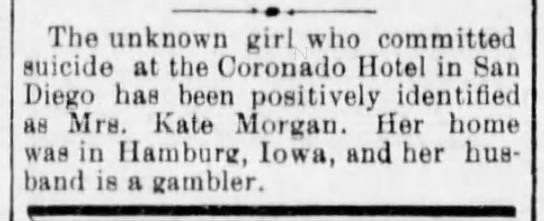 In a 2001 book titled The Ghost of the Hotel del Coronado, The TRUE Story of Kate Morgan, author Terry Girardot detailed his findings on local newspaper clippings of Kate's suicide as well as genealogy research on her and her husband Tom Morgan. The photo pictured below was provided by Tom Morgan's granddaughter and is said to be the only known photo of Kate Morgan. Till this date, there have been no other historical records to verify the authenticity of the photo.
Hotel del Coronado's heritage department have similarly released a book titled Beautiful Stranger: The Ghost Of Kate Morgan And The Hotel Del Coronado in 2002 to give their verdict on the mystery behind Kate Morgan and her supposed suicide.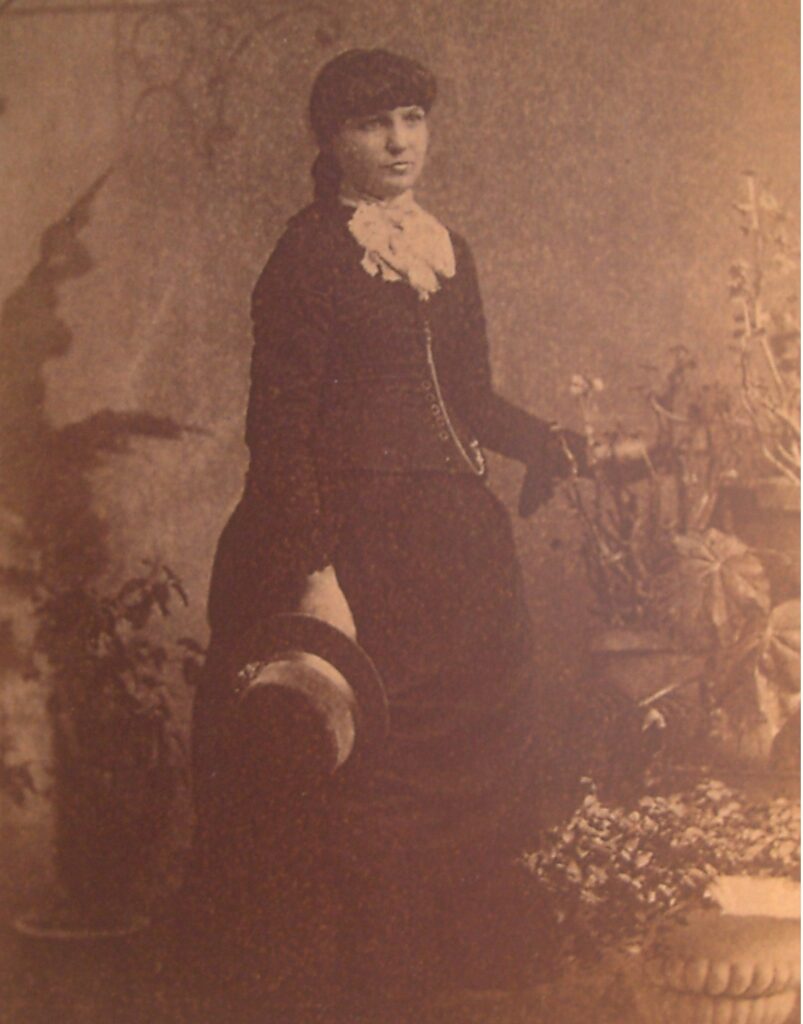 Today, the ghost of Kate Morgan is said to haunt room 3327 (room 3312 by the current numbering system) and the hallway outside. Chambermaids who cleaning up room 3327 and the adjacent rooms have reported hearing whispers and seeing objects moving on their own. Guests of room 3327 have also complained about the flickering lights, the bizarre TV turning on and off by itself, and random cold spots, only to be told that the room is haunted and a transfer of rooms is allowed. The most haunting experience ever reported is perhaps the apparition of a young lady in period clothing pacing frantically along the corridor, seemingly in distress or waiting for someone.
Apart from room 3327, staffs of the resort have also reported ongoing paranormal activities at the gift shop. Items are known to have fly off the shelves but were unbroken from the fall.
History of the Haunted Hotel del Coronado
Situated in the city of San Diego, just across San Diego Bay, Hotel del Coronado (also known as The Del or Hotel Del) was one of the most luxurious resort in the state when it first opened in 1888.
The wooden Victorian resort was the brainchild of five business moguls:
Elisha Spurr Babcock, a railroad executive from Evansville, Indiana.
Hampton L. Story, of the Story & Clark Piano Company of Chicago
Jacob Gruendike, president of the First National Bank of San Diego
Heber Ingle
Joseph Collett
In early 1886, the five men established numerous enterprises such as the Coronado Ferry Company, the Coronado Water Company and the Coronado Railroad Company to spur the growth of Coronado. However, they had envisioned their work to culminate with the building of a world-class luxurious resort on the then-undeveloped Coronado peninsula.
Work on the resort began in March 1887. To construct Hotel Del Coronado, the five men hired architectural firm Reid & Reid— run by architect James W. Reid, Merritt J. Reid, and Watson Elkinah Reid—to design the massive resort and oversee the 2,000 laborers hired for the project. To ensure a steady supply of lumber necessary to build the wooden resort, a contract was signed with Dolbeer & Carson Lumber Company, giving them exclusive rights to the company's entire lumber production. A sawmill, kiln, metal shop, and iron work was also built near the site to speed up the processing of raw materials.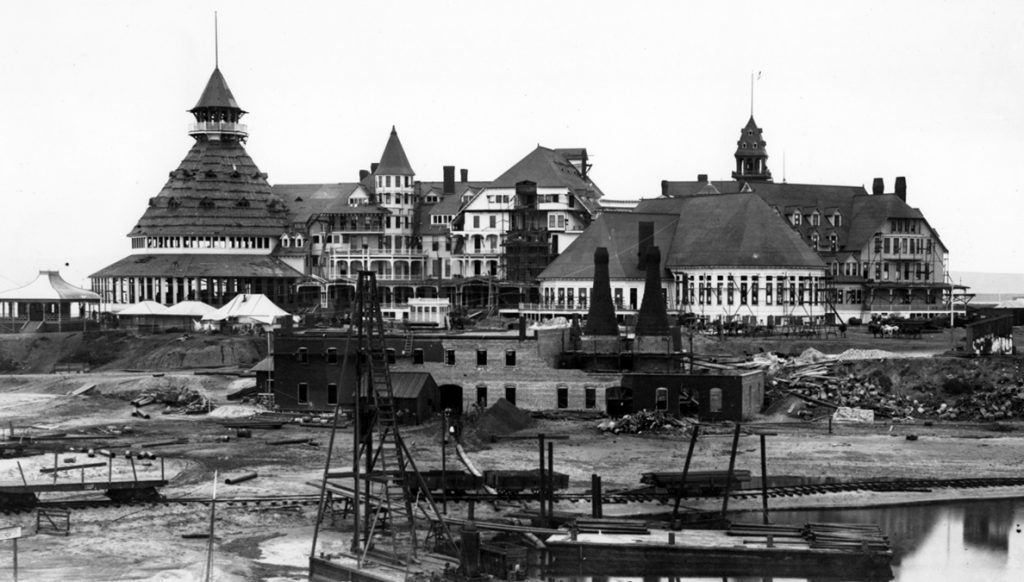 In under a year, most of the buildings were completed and the hotel was ready for business. Hotel Del Coronado officially opened its doors to the public in February 1888. The massive resort boast 339 luxurious guest rooms and an array of amenities including an Olympic-sized salt water pool, tennis courts, a Japanese tea garden, an ostrich farm, and bowling alleys. Activities such as rabbit hunt, sailing, and deep sea fishing were also offered to guests of the hotel.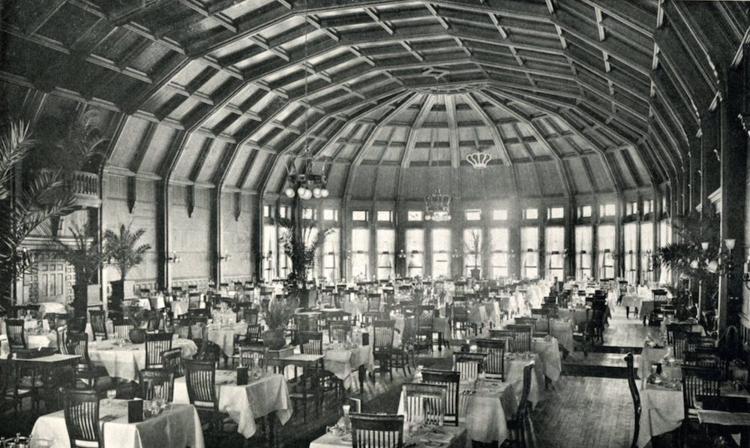 Hotel Del Coronado was one of the world's first to have electric lighting in a hotel; electricity was introduced to the city of San Diego barely two years ago in 1886. The hotel also boast one of the largest electrical power plant in the world, supplying electricity to not only its buildings but also the city. In December of 1904, the hotel lit up the world's first electrically lighted, outdoor Christmas tree.
"The tree selected for the honor is one of the three splendid Norfolk Island pines on the plaza [grassy area in front of the hotel]. It has attained a height of fifty feet and its branches stand proudly forth. All day yesterday electricians were busy fitting it up and by night 250 lights of many colors gave beauty to the fine old pine. Lanterns, great and small, hung from its boughs. And now that an open-air Christmas tree had been introduced, it is likely that another Christmas Eve will find many California gardens aglow with light scattered from living foliage."

– San Diego Union, December 25, 1904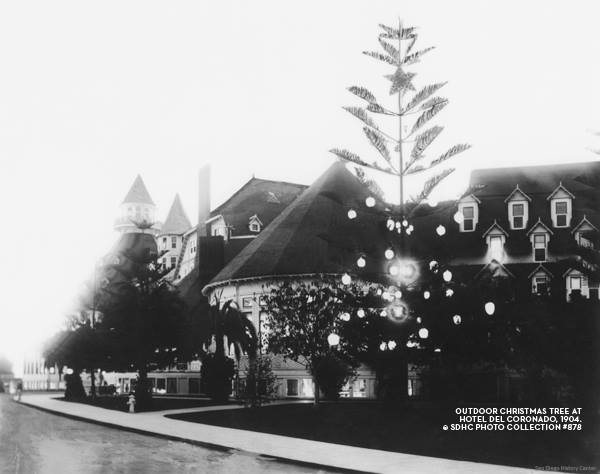 However, the collapse of southern California's real estate boom in the late 1880s led to a severe decline in room occupancy as people deserted San Diego.To finance the completion of the hotel, Babcock raised funds from various business leaders and was able to get a loan of $100,000 from John Diedrich Spreckels, a sugar magnate and real estate tycoon. In 1893, Babcock and Story sold all their shares of Hotel Del Coronado to Spreckels.
During World War II, Hotel Del Coronado housed many pilots who trained at nearby North Island Naval Air Station and their families. While many of the hotels in San Diego were expropriated by the U.S. government to serve as military barracks and hospital, Hotel Del Coronado was one of the few that continued operating as a business.
The hotel changed hands several times over the next few decades. In 1960, the hotel was sold to John Alessio, a local millionaire. It was later sold to M. Larry Lawrence in 1963, the Travelers Group in 1996, CNL Hospitality Properties Inc in 2003, and Blackstone Group LP in 2006. In 2016, Blackstone brokered a $6.5 billion deal involving 16 resorts with Anbang Insurance Group, a Chinese insurance company. However, all but Hotel Del Coronado was transferred to Anbang Insurance Group. The Committee on Foreign Investment in the United States, a federal agency that oversees acquisition of U.S. business by foreign entities, has deemed the transaction to be of high national security risk due to the hotel's proximity to several Navy bases in the area. The last change came in August 2017 when Hilton Hotel and Resorts took over the management of the hotel.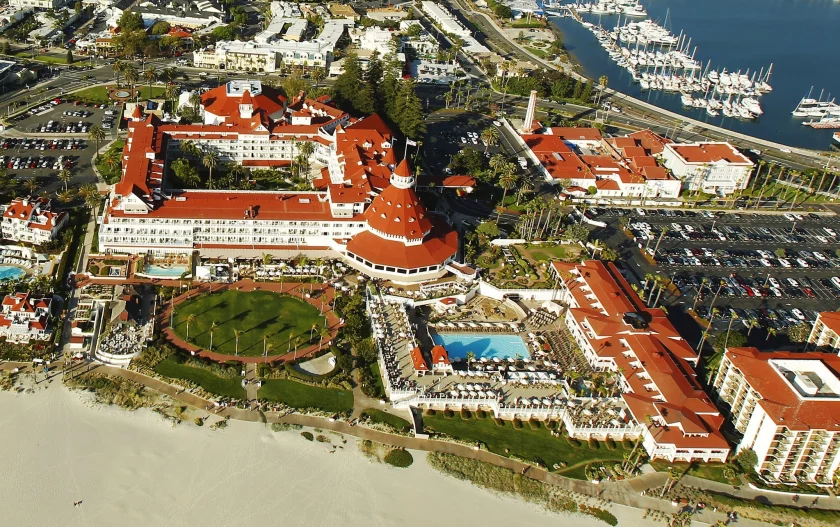 The hotel also underwent several upgrades to offer more accommodation and facilities for its guests. During the 1970s and 80s, then-owner Lawrence doubled its room capacity to over 700 rooms and added Grande Hall Convention center as well as Ocean Towers to the hotel's facilities. Another massive redevelopment took place in 2019 when Hilton Hotel and Resorts expanded Hotel Del Coronado to include more guest rooms, parking garages and a new entrance.
Today, Hotel Del Coronado is the second largest wooden structure in the United States and undoubtedly one of the most iconic buildings in San Diego. Its historical significance and outstanding architecture has led to its designation as a California Historical Landmark in 1977. Separately in 1977, the resort was listed as a National Historic Landmark.
Famous guests at Hotel del Coronado
The popularity of the Hotel Del Coronado in the early 19th century have made it a 'must stay' spot for politicians and celebrities visiting the West Coast. President Benjamin Harrison, William Howard Taft, Woodrow Wilson, Franklin D. Roosevelt, Lyndon B. Johnson, Richard Nixon, Gerald Ford, Jimmy Carter, Ronald Reagan, George H. W. Bush, Bill Clinton and George W. Bush have all stayed at the resort during their presidency.
Other notable luminaries who have stayed at the resort include Charlie Chaplin, Clark Gable, Mae West, Joan Crawford, Marilyn Monroe, and more recently, Brad Pitt, Madonna, Barbra Streisand, and Oprah Windfrey.
Directions to Hotel del Coronado
The iconic hotel is located at the eastern end of Coronado Beach and can be reached from San Diego International Airport via a 15 minute drive. Guests arriving by car are advised to park at the parking garage on the left of the hotel, just off R.H. Dana Place. Hotel del Coronado is also conveniently located to several local attractions including Coronado Star Park (0.5 mile), Coronado Ferry Center (1.5 miles), Maritime Museum of San Diego (3.9 miles), and Balboa Park (4.1 miles).
The exact address of Hotel del Coronado is 1500 Orange Ave, Coronado, CA 92118. Get driving directions to Hotel del Coronado by viewing it on Google Maps.