Room 64 in Cecil Hotel was popularized after being featured in "American Horror Story: Hotel". The episode centers around the cryptic Hotel Cortez, Room 64, and The Countess, a bloodsucking socialite who lives in the hotel's penthouse.
In the episode, room 64 was the former office of developer and oil baron James March when he first built the hotel. Eventually, it became the room that Iris (the receiptionist) "never rent out". All characters who entered room 64 did not walk out of the room alive.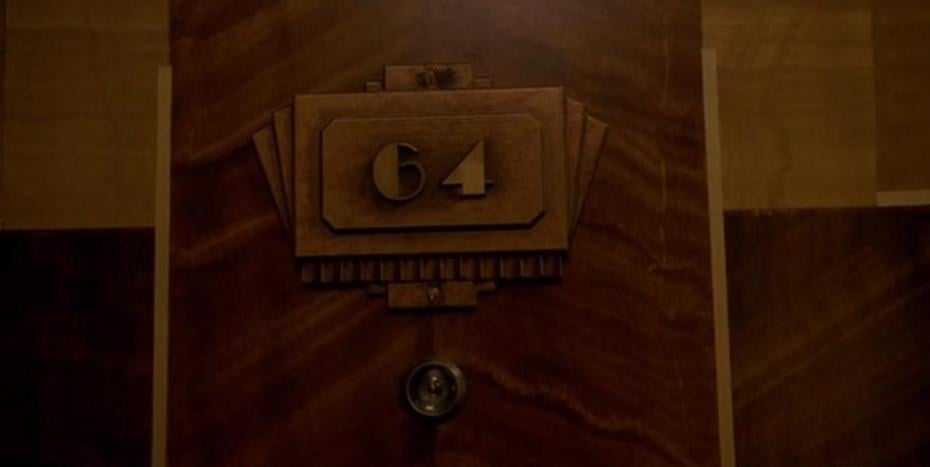 However, little is known about the significance and origins of the number 64. Theorists believed that number 64 is used due to it being both a perfect square (8 X 8) and a perfect cube (4 X 4 X 4), and that its 'perfect' attributes is related to Addiction Demon, a mysterious creature that resides in room 64.
Hotel Cortez was reportedly based off the infamous Cecil Hotel where numerous mysterious deaths have occurred, including the chilling death of Elise Lam. Several serial killers were also said to have stayed in the hotel during the heydays of their murder spree. This includes Richard Ramirez (also known as the Valley Intruder or the Night Stalker) and Austrian-born Johann "Jack" Unterweger.
History of Cecil Hotel
Cecil Hotel was built in downtown Los Angeles by three well-known hotelier William Banks Hanner, Charles L. Dix, and Robert H. Schops. The hotel reportedly cost the trio $2.5 million (today's equivalent of $34 million) to construct. Boasting 700 guest rooms across 19 floors as well as a marble lobby with stained-glass windows, it is set to be one of the most luxurious hotel in the area.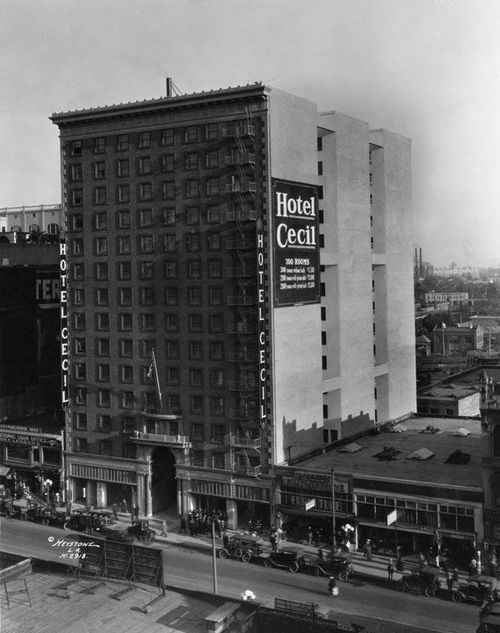 Opened in 1924, Cecil hotel, with its iconic advertisement on the right side of the building, became an instant hit among business travellers and visitors visiting Los Angeles.
Cecil Hotel survived the Great Depression which lasted till the late 1930s. However, with the decline of Skid Row—a neighborhood now home to the largest population of homeless population in the United States—Cecil Hotel was forced to make the transition into becoming a budget hotel. With the transition, wording on the advertisement changed from 'monthly' to 'daily' to better suit the needs of the neighbourhood.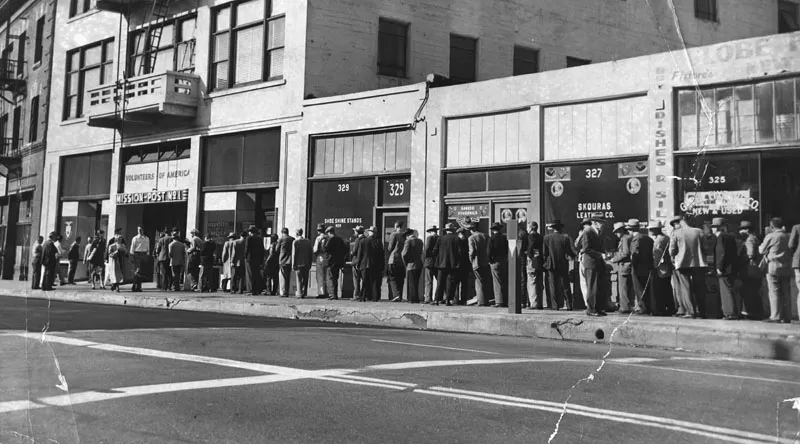 With the demise of Skid Row, the hotel became a hotbed for criminal activities and violence.
Deaths at Cecil Hotel
Once a boutique hotel that served business travellers and tourists in downtown Los Angeles, the Cecil (Stay On Main) Hotel have went on to earn its name as the deadliest hotel in the city. Many have attributed the high number of deaths to its location. Located within the area of Skid Row where a dense population of the homeless can be found, Cecil Hotel was once a hotspot for illegal activities. However, the death of Elisa Lam have prompted many to question the real reason behind Cecil Hotel's abnormally high number of death.
Over the course of the hotel 94-year history, a total of 16 deaths have occurred within the walls of the building. This was significantly less than what was suggested; in an interview with the hotel's former manager Amy Price, Amy mentioned that she had dealt with 80 deaths during her ten years in Cecil hotel.
The first recorded death in Cecil Hotel traces back to January 22, 1927, when 52-year-old Percy Ormond Cook committed suicide by shooting himself with a pistol. Since, another 15 deaths have happened in the hotel.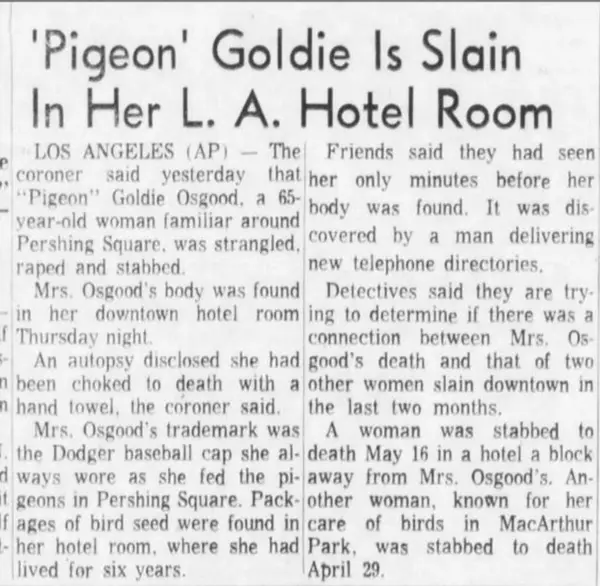 These include Grace E Magro who fell to her death in 1937 from a ninth floor window, 39-year-old Erwin C. Neblett who ingested poison in his room in May 1939, Dorothy Jean Purcell newborn son who was thrown out of the window in 1944, Pauline Otton who jumped out of a ninth-floor room in 1962 after an argument with her husband, and hotel worker Pigeon Goldie Osgood who was raped and killed in her room in 1964.
Of all the deaths that have happened in Cecil Hotel, the supposed 'suicide' of 21-year-old Elisa Lam continues to intrigue conspiracists and paranormal enthusiasts.
Was Elisa Lam killed?
Till today, it remains unknown if Elisa Lam was killed by a perpetrator or committed suicide due to her hallucinations. Footage of Lam's baffling behavior in the elevator as well as evidences brought up by investigators have led Many have surmised that Elisa Lam was being followed in the hotel and eventually killed.
The case of 21-year-old Canadian Elisa Lam traces back to February 1, 2013 when she was supposed to check out of Cecil Hotel. However, she was nowhere to be found. A missing case was filed by Lam's parents and the police was activated. A thorough search of the hotel rooms was conducted but to no avail.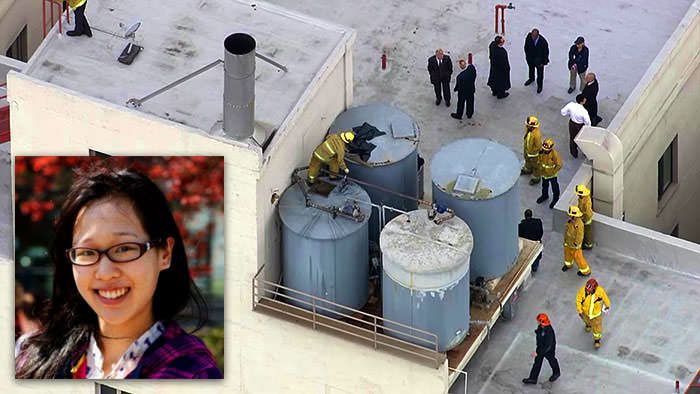 On February 15, the police released a surveillance footage revealing Elisa Lam erratic behavior in the elevator. In the video, she was seen frantically pressing the elevator's buttons and walking in and out of it, seemingly to hide from someone. The video drew nationwide attention, with many theories being surfaced to account for her bizarre actions.
During the search for Lam, guests at the hotel reported low water pressure and an unusual taste in the water. On February 19, 2013, hotel maintenance worker Santiago Lopez was sent to investigate the water tank. There, he discovered the naked body of Elisa Lam floating in one of the four 1,000-gallon water tanks atop the hotel's roof.
It was later disclosed by her sister that Lam was previously diagnosed with an extreme form of bipolar disorder, and that medication was necessary on a regular basis to control manic or hypomanic episodes. However, among Lam's possessions found in the hotel were several bottles of (seemingly untouched) prescription medicines, suggesting that she may not have been taking her medication as instructed. This was supported by toxicology tests which revealed a low concentration of her prescription drugs in her body, suggesting that she was under-medicating or have recently stopped her medications.
This led investigators to conclude that any bizarre behavior associated with Elisa Lam prior to her death was due to her hallucinations. The Los Angeles County Coroner ruled her death to be incidental, with bipolar disorder being a "significant factor" that contributed to this tragic incident.
In February 2021, Netflix released Crime Scene: The Vanishing at the Cecil Hotel, an American docuseries that shined a light on the bizarre death of Lam. The four-part series chronicled events leading up to Lam's death and revealed key evidences—including the fact that a key was needed to access the roof—that convinced many viewers that Lam was murdered and disposed in the water tank.
Is the Cecil Hotel Still Standing?
As of February 2022, Cecil Hotel is still standing. However, the infamous hotel is not open to the public for bookings. As a place with a notorious history of suicides, murders and death, a rebranding of the Cecil hotel was deemed necessary by the owners. In 2011, a section of the building was rebranded to Stay On Main Hotel, a reference to its location along Main Street. After operating for a period of three years as Stay On Main Hotel, the hotel was sold to New York City hotelier Richard Born in 2014 for $30 million.
On December 15, 2021, the historic hotel reopened as a housing complex and now offers 600 occupancy units to lower income individuals in the city. All units are served by common facilities such as shared kitchens, laundry rooms, and a recreational area. To be eligible for the units, the salary of the occupants would need to be between 30 per cent and 60 percent of the area's median income.
The Cecil Hotel is located in Downtown Los Angeles at 640 S Main Street, Los Angeles, CA 90014. Due to its rename to Stay On Main Hotel, little information with regards to its location can be found when 'Cecil Hotel' is searched on popular search engines such as Google and Yahoo.
Who Owns Cecil Hotel now?
The Cecil Hotel is currently owned by Simon Baron Development, a New York-based real estate firm who purchased a 99-year ground lease on the Cecil Hotel land from Richard Born.
In 2017, the year it was approved as a landmark status in Los Angeles City Council, Simon Baron embarked on a massive restoration to redevelop the building into a state of the art mixed use facility that is set to include 299 hotel rooms, 265 residential units and a amenity space located at the roof where Lam's body was found.
However, work on the hotel's restoration was suspended indefinitely when the COVID-19 pandemic hit the United States in March 2020. In December 2020, Simon Baron Development announced that it had acquired a $30 million mezzanine loan to fund the ongoing renovations on Cecil Hotel. The hotel was renamed as Stay On Main Hotel to dissociate from its haunting past.