On September 5, 1922, Sarah Winchester died at the age of 82 from a congestive heart failure. Her death was a shock for family members and friends of Sarah Winchester as it was not known if she was suffering from any pre-existing heart conditions or has inherited heart diseases from her family.
Where is Sarah Winchester Buried?
Sarah Winchester's death was quiet and unexpected, for her small circle of family members and friends who mourned for her passing did not expect her to suffer and die in such a way. That said, her death have impacted thousands of lives who were blessed by her charitable act
Days after her death, a memorial service was held in Palo Alto, California. She was then laid to rest at Alta Mesa Cemetery. Years later, the remains of Sarah Winchester was transferred to Evergreen Cemetery at New Haven, Connecticut where she was buried next to her husband William Wirt Winchester and their infant child Annie Pardee Winchester. William died on March 7, 1881 (aged 43) from tuberculosis while his six-week old child Annie passed away from marasmus, a severe form of malnutrition.
Winchester House after Sarah Winchester's death
After Sarah Winchester's death, her will was executed where a massive fortune was donated to local charities and public facilities such as schools and hospitals. What remains was bequeathed (excluding the house) to her niece Marion Isabel Merriman (renamed to Marriot after her marriage) and personal secretary. Marion is a close family member of Sarah Winchester and they had lived together with for over a decade. Marion acted as her secretary during her stay and assisted Sarah Winchester with the construction of the mansion.
Marion took possession of most of the inheritance and sold it in a private auction. It was said that a team of six trucks took over six weeks to remove the items sold by Marion.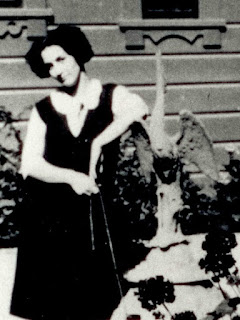 As the Winchester house (formerly known as Llanada Villa) was excluded from the will, it was sold in a public auction for a price of $135,000. The house was later leased to John and Mayme Brown, who eventually bought the house and converted it into a museum. Since then, the house has become a popular tourist attraction in San Jose, with many visiting the house in hopes of catching a glimpse of the spirit of Sarah Winchester.
Today, Winchester House is owned by Winchester Investments LLC, which is a private company held by the descendants of John and Mayme Brown.
What is Sarah Winchester Net Worth Today?
After the death of her husband William in 1881, Sarah Winchester received an inheritance of $20 million (over $540 million in 2021) as well as a 50% stake in the Winchester Repeating Arms Company. With her stake in the company, she received $1000 a day in royalties, which equates to a daily earning of over $30,000.
However, Sarah Winchester spent most of her inheritance towards the renovation of the Winchester House as well as making donations towards local charities. When she died, she was estimated to have a net worth of approximately $2.9 million, or $47 million in today's value.